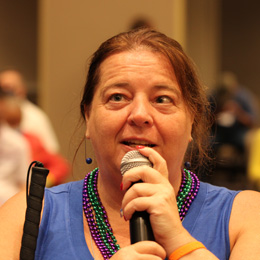 Shara Winton, President
Email: sharawinton@gmail.com
My name is Shara Winton I am the first vice-president of the National Federation of the Blind of Massachusetts and the president of the Cambridge chapter. I grew up primarily in the Beautiful State of Tennessee. I lost my vision as a teenager, just entering high school. Living in a rural farming community of the South, the small County was not equipped to educate someone who was blind. Therefore, I completed High School at the Tennessee School for the blind near Nashville. After Graduation from there, I attended College at Middle Tennessee State University, earning a Bachelor's degree in Communications with an emphasis in Public relations. I was the first member of my family to have ever received a college degree. I also have minors in Psychology and Business Administration.
I became a member of the National Federation of the Blind in 1996 and started a Chapter in my hometown of Murfreesboro. While president of the Murfreesboro chapter, I was also elected to the NFB of Tennessee affiliate board and served as the alternate delegate for National Convention.
I had begun advocating for the rights of blind people before joining the NFB. It became my profession as a college student. I began a coalition for public Transportation which lead to Murfreesboro gaining a bus system in the city for the first time in over four decades. I also led a vigorous campaign that made accessible voting machines available to those who cannot read standard print in Rutherford County, Tennessee. I worked for non-profit organizations, such as People First of Tennessee and the Tennessee Microboard Association INC primarily as a Public Relations and Development officer. I served on a transition Board for Rutherford County which aided students with disabilities to transition in to the work force. I also worked at the Adventure Science Center in Nashville as the events coordinator.
I now run my own business as a Pampered Chef Consultant. I love teaching people how to cook and how to bring their families back around the table. I am a mother of two amazing young men who I raised by myself. I continue to be a staunch advocate for people with all types of disabilities in my community and around the Nation.
Phone: 617-600-8130